Industry article
Job flow! UK water framework jobs set to soar.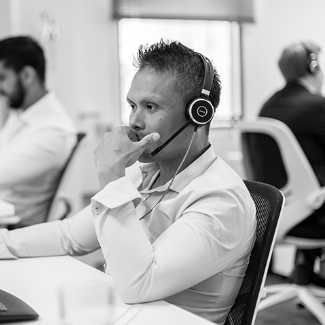 Teo De La Cruz
Posted on 20 Mar 2023 · 4 mins read
With news of new contracts and investment in the sector, there's a ranged of water framework opportunities in the UK – find out more in our blog.
The recent announcement by Southern Water Services that it is awarding four huge contracts – with a value in excess of £9bn, the biggest ever investment in its history – for its 2025-2030 capital programme delivery and infrastructure management for Asset Management Plan Period 8 (AMP8) is yet another example of the abundance of water framework job opportunities being created in the sector. This is great news for jobseekers, as the investment being pumped into AMP8 will create a plethora of jobs for specialists involved in the design, construction and maintenance work of these new projects.
As reported in the New Civil Engineer, the Worthing headquartered private utility company has also revealed the names of the five contactors appointed on its £600m medium non-infrastructure works framework as part of Plan 7 (AMP7), which runs until March 2025. It's a busy time for Southern Water, as it is also collaborating with regulators and stakeholders to prepare for Ofwat's 2024 price review (PR24). This lays out companies' business plans to meet future challenges, namely the improvements needed to decrease pollution as well as provide better levels of customer service.
The Capital Programme Delivery is by far the biggest of the frameworks and accounts for £7.5bn or in excess of 80% of the total spend, which focuses on six key areas related to wastewater, water and the water environment, including sewer works, bio resources and water recycling. Southern Water will be partnering with a number of strategic delivery partners (SDPs), which will create significant demand for those with specialist skills in design and construction to deliver on these key project outcomes that involve net zero, catchment based issues and nature-based solutions.
The company's half a billion Capital Infrastructure Framework will also get a revamp and will generate plenty of job opportunities in design and build, for example in asset replacement works for both water and wastewater infrastructure. This will cover a range of areas, which will require expertise across different disciplines such as civil, mechanical and electrical engineering. The procurement process for its AMP8 £250m Professional Services Network is also under way, which will see it partner with professional service providers to deliver technical engineering support.
But the work doesn't end there. The utility company will also need assistance and specialist knowledge to help on its £900m contract to maintain, manage and repair the company's water, wastewater and leakage networks. Their remit will also include inspections to anticipate any future problems as well as providing new services for the water supply and distribution network. Clearly, the company is looking to build on progress on AMP7 while implementing feedback from suppliers to continue the improvement works.
Huge investment in UK water framework jobs
Southern Water isn't the only water company investing in its networks and therefore in need of talent for its projects, though. Thames Water, the UK's largest water and wastewater company, serving 15 million customers in London and the Thames Valley area, has put out a tender for its eight year RW1 programme. This will cover non-infrastructure medium-sized projects ranging from £250,000 up to £5m, incorporating Mechanical, Engineering, Instrumentation, Control and Automation (MEICA) as well as civils. Firms for smaller sub-£250,000 projects (RW0)have already been selected.
In a bid to reduce pollution, Thames Water also recently announced that it will be investing a significant £1.6bn – a UK record for water utilities – in its sewage treatment works and sewer networks over the next two years, more than double the amount of the previous two years. The money being pumped in is designed to help the company hit its targets, notably reducing discharges and duration of discharges by 80% and 50% respectively. This is more fantastic news for job creation in the sector, especially for specialist engineers who can deliver on complex projects at speed.
Recognising the need for long term action given the enormity of the challenges, CEO Sarah Bentley said, "The discharge of untreated sewage is unacceptable, and we are committed to tackling this problem. We are investing record sums in upgrading our sewer systems and treatment works and are striving every day to reduce the discharge of untreated sewage into our rivers."
With record investment pouring into the sector, it really is an exciting time for the water framework industry and for jobseekers with the right skills. If you're looking to hire your next specialist or are seeking a fresh challenge, talk to our dedicated specialists.
Call us:
Call us to speak to a member of our team. We are always happy to help.
01189077583
Find us:
1st Floor, 145 Friar Street, Reading, RG1 1EX
Google Maps