Industry article
The latest developments in the water industry and what these mean for skills demand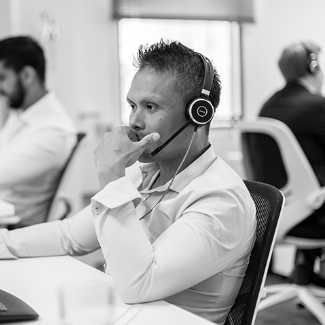 Teo De La Cruz
Posted on 14 Aug 2023 · 7 mins read
This blog outlines some of the latest major project announcements in the UK water industry and how they can impact demand for skills
The water industry has been hitting the headlines for one reason or another in the UK for a while now. However, in positive news, it appears that a number of the leading firms in the industry are launching major investment programmes which could kickstart growth in career opportunities for specialists in this field. We've looked into some of the latest major announcements and highlighted how they could impact the demand for skills in the water industry.
Major projects
The largest of the recently announced programmes has been launched by Southern Water with the firm seeking to appoint organisations to three different framework lots worth £6.2bn in total under its AMP8 investment programme.
The first of these consists of non-infrastructure services and is worth £1.9bn, the second is related to wastewater with a value of £2.8bn and the third is for both water and wastewater infrastructure and is valued at £1.5bn. All three programmes are to cover the entirety of Southern Water's region encompassing Kent, Sussex, Hampshire and the Isle of Wight.
Southern Water is anticipating that the chosen contractors will prepare all aspects of work delivery planning, including identification of the most cost-efficient civil, mechanical & electrical and environmental construction resources to deliver the works. The initial contract for each lot will last 84 months, seven years total, but could extend to up to 12 years if each of the potential one-year extension periods are taken.
In other AMP-related news for the water industry, Yorkshire Water has also launched a separate £2.8bn project formed of two major frameworks which are expected to run for up to 10 years and have been designed to support the delivery of the company's capital investment programme. Firms that successfully secure the contracts for the first framework will be involved in pre-construction surveys and investigations, as well as design-and-build schemes and site work. Partner organisations will primarily be required to provide expertise and support in the design, planning, management and delivery of assets linked to combined sewer overflows. Those appointed may also be required to help with the design, planning, management and delivery of extensions to water and sewerage networks and sewer rehabilitation works, as well as pumping stations.
Consultancy programme
And, in other major project news, Thames Water is seeking partners to support the delivery of its Strategic Resource Options (SRO) Programmes worth a combined £300m. The framework is anticipated to last around eight years and applies to projects across the UK. The work will encompass engineering services, construction-related services, architectural and related services, urban planning and landscape architectural tasks, public utilities, consulting services for water-supply and waste consultancy, development consultancy services, business and management consultancy and related services, and consulting services for water-supply and waste-water other than for construction.
Thames Water's current portfolio of SRO projects includes the Southeast Strategic Reservoir Option, Severn to Thames Transfer, London Water Recycling projects, Thames to Affinity Transfer and Thames to Southern Transfer.
The framework documentation confirmed that partners will, "need to demonstrate extensive experience in the development and support the delivery of large complex infrastructure schemes in the current UK planning environment. This includes being able to provide strong leadership, excellent technical capability, and proven expertise in supporting the delivery of large pipelines, reservoirs, water recycling and transfer facilities."
Demand for skills in the water industry
Each of these major projects will require the mobilisation of significant numbers of specialist professionals with experience in operating on the various stages of the AMP lifecycle. The variety of different tasks being launched means that talent in fields like engineering, site management, surveying and project management, to name just a few, will all be highly sought after in the coming months, so if you're a professional operating in this field then ensure you keep abreast with any further developments and announcements.
There are no other recruitment consultancies in this sector that have successfully navigated a full project life cycle as our team has. Our understanding and track record have led to the development of successful and long-term partnerships with multiple water frameworks across the country, so if you're seeking a new opportunity or are looking for an organisation to help support your recruitment needs then don't hesitate to get in touch.
Find out more about some of our latest water jobs
Take a look at some of our other blogs
Follow us on LinkedIn
Call us:
Call us to speak to a member of our team. We are always happy to help.
01189077583
Find us:
1st Floor, 145 Friar Street, Reading, RG1 1EX
Google Maps